Leaders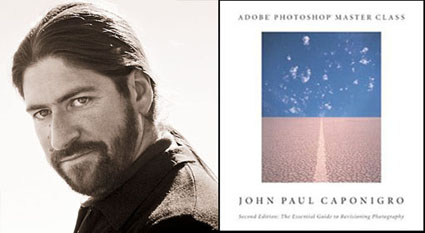 John Paul Caponigro
jpc@digitalphotodestinations.com
John Paul Caponigro combines his background in painting with traditional and alternative photographic processes using the digital platform. He is respected internationally as one of the most prominent artists working with digital media processes. Exhibited internationally, his work has been purchased by numerous private and public collections including Princeton University, the Estée Lauder collection, and the Smithsonian.
Caponigro's primary focus is the natural world. The wastelands he photographs are breathtakingly beautiful, yet the conspicuous absences found within them add an unusual complexity and social relevance when issues surrounding the environment, the medium of photography and its changing nature as well as his practice within it, and their mutual interaction are considered. Many viewers find his work profoundly spiritual.
Respected as an authority on creativity and fine art digital printing, he is a highly sought after speaker, lecturing extensively at conferences, universities, and museums, in venues as diverse as Photoshop World, MIT, and TEDx. He teaches workshops globally.
John Paul's work has been published widely in numerous periodicals and books including Art News and The Ansel Adams Guide.
A contributing editor for Digital Photo Pro and the Huffington Post, he is the author of Adobe Photoshop Master Class and the DVD series R/Evolution.
John Paul is a member of the Photoshop Hall of Fame, one of Canon's Explorers of Light, an Epson Stylus Pro, and an X-Rite Coloratti. His clients include Adobe, Apple, Canon, Epson, Kodak, and Sony.
Learn more by visiting www.johnpaulcaponigro.com and get over 100 free online lessons with a free subscription to his enews Insights.
Teaching Philosophy
As a workshop leader, my goal is to help you realize that you're more creative than you think you are. In pursuit of excellence, I'll help you improve both your inner game and your outer game.
Inner Game
- Using old skills in new ways (writing, drawing, photographing)
- Composition
- Image selection
- Developing components in your personal style
- Creating significant variations on a theme
- Storytelling
- Using continuity devices
- Making the visual verbal (association, gathering guiding questions, making artist's statements, etc)
- Project planning, development, and presentation
- Defining you personal mission, goals, and projects
Find my free Creativity resources here.
Watch my TED talk here.
Outer Game
- Cutting edge exposure techniques
- Layer stacking and blending
- Panoramic stitches
- HDR techniques
- Depth of field extension
- Raw file processing
- Experiential exercises designed to get you thinking and reacting in new ways
See my free Technique resources here.
The way you do things is just as important as what you do.
Here's what I think a great leader does – and helps you do.
- Communicates passion
- Walks his talk; shows you and tells you
- Offers guidance and direction
- Listens
- Helps others activate all their resources
- Recognizes and reveals group resources
- Expands others comfort zones
- Empowers others
A great leader brings all of their resources with them (passion, philosophy, history, education, connections, technique, tools, results), ready to make the most of every moment – and every individual.
I try to go into every situation (including workshops) with a good plan – and I plan to improve that plan based on the unique circumstances of a situation, the needs and desires of the individuals currently in play, and what we all learn while we're playing together.
So, being a great digital photography workshop leader involves far more than making sure people get to great locations at great times. (Of course, that's really important too!)
What to expect from me …
During workshops, I'm available at all times. I'll answer any questions. I'll make images on location with you. I'll watch how you work a scene and offer suggestions for things for you to try. Before we begin at each location, I design exercises tailored for each location (and sometimes for individuals) and provide tips for working each scene, as well as review discoveries the group makes when we return. Reviews of work are done both spontaneously on location and formally in group review sessions – they're critical components of the learning process. Unlike lab workshops, field workshops are not the place for detailed technical demonstrations of software. In the field we devote more time to making the most of each unique location and making sure we get the best exposures we can.
What I expect from you …
I encourage you to maintain an open mind, a willingness to share with others, and a desire to improve at all times. I expect you to show up and give it your best. I expect your photography to improve. I expect you will leave inspired and enriched. I hope you enjoy the whole process!
Seth Resnick 
seth@digitalphotodestinations.com
Chosen as one of the 30 most influential photographers of the decade by Photo District News Magazine, Seth Resnick is one of North America's most prolific corporate, editorial and stock photographers. Seth is greatly in demand for his beautiful graphic images in both natural and created light. Resnick has been published in the world's most prestigious magazines. His credits include over 2500 publications worldwide and his clients constitute a virtual list of Corporate America.
He is co-founder of D-65, an organization teaching digital workflow workshops, webinars, one-on-one training, tech support, and consulting for photographers, studios, agencies, and corporate art departments. Resnick is at the forefront of digital innovation working with Adobe, NEC, Canon, Xrite, Epson and others to help them formulate more useful products for photographers. Resnick is one of 78 photographers worldwide named as a Canon Explorer of Light. He is a member of the prestigious X-rite Colorati program an OnOne Master as well as an Alpha/Beta and feature consultant for Adobe Photoshop and Lightroom. Resnick's has published two books on Lightroom. The most recent is D-65′s Lightroom Workbook.
He travels extensively presenting the various aspects of photography, and is also the former Founding President of Editorial Photographers, a trade organization dedicated to the promotion of sound business practices for editorial photography. Seth is also a partner of PixelGenius developing Photoshop plug-ins and software and a regular contributing columnist to a variety of trade publications.
He has given hundreds of lectures to industry organizations such as American Society of Media Photographers (ASMP), Advertising Photographers of America (APA), Professional Photographers of America (PPA), Advertising Photographers of New York (APNY), colleges and universities.
Seth Resnick is as an industry consultant to photo agencies, software companies and is frequently quoted by industry magazines.
Learn more by visiting sethresnick.com and D65.com
Teaching Philosophy

As a teacher I strive to engage, challenge, and inspire growth in my students. It is my hope that every student is capable of the same passion that I feel for photography and with that philosophy in mind, I teach within a structure which I believe fosters critical thinking both creatively as well as technically.
My teaching philosophy revolves around the idea of being as well-balanced of a photographer as possible. Technical skills must be mastered as well as conceptual skills but it must start with a solid image. No matter how accomplished you are technically, if your ideas are weak, then your images simply won't work, and, conversely, no matter how good your ideas are, if your technical skills are lacking your images can't work. No matter how innovative the idea is, it is not worth showing if it is done poorly.
My first goal is to invigorate and reinvigorate your capacity for creativity. We concentrate on techniques that improve the overall photographic process, from concept to output. Each photographer learns how to create their own vision—to see things others would not see if they were standing right next to them. In this way, you learn how to see the subject matter that you might otherwise overlook. We all see color, but no two of us experience it exactly the same way; my shade of red is not what you're seeing. Yet as a photographer, I want you to see what's in my mind's eye, which is where the challenge lies to capture and render a particular vision.
My second goal is to hone in on your own personal aesthetic point of view. We will all examine the choices that we make when producing a photograph, the choices that differentiate a great photograph with a lasting impression from a mere snapshot. I want to enhance your vision into the world of reflections, patterns, gestures, tone, abstractions, movement, and texture to name a few. I want to extract your personal creativity and bring it to a new level.
I believe that photography is best learned by immersion. To challenge and be challenged by my students is my third goal. I begin with the belief that every student possesses unique capabilities that can be shared with others if given the appropriate supports. I challenge my students to share opinions with and to mentor one another. I also expect to be challenged by my students—an expectation I hope to communicate early on after we meet. I encourage my students to ask questions, and I am straightforward about not having all of the answers. When I become "stuck" I seek the input of my colleagues. Above all else, I challenge my students to understand that I am open to their thoughts, eager to hear their opinions, and thrilled to learn with and through them.
Finally, I attempt to inspire growth in my students.
Our non-photographing time will always include daily critiques of work, and instruction on creativity and technique.  I use and teach Adobe Lightroom to process images and optimize them for output.
For myself, teaching provides an opportunity for continual learning and growth. One of my hopes as an educator is to instill a love of learning in my students, as I share my own passion for learning with them. Teaching is never stagnant and it is a constant process of learning about new philosophies and new strategies, learning from fellow photographers and colleagues. I believe in a flexible manner of instruction, responsive to the unique atmosphere of a given class. I am aware of students' different experiences and temperaments in hopes of developing their strengths while ameliorating their weaknesses. Every student, regardless of background, can improve his or her abilities and be emboldened to push beyond their own experience expanding their skills and their vision.
WHAT TO EXPECT FROM ME…
This is a workshop and I am here to help you. You can ask me anything anytime from wine to photography and I will do my best to answer your inquires The number one thing you should expect from me is that I am going to be fired up and I hope that my passion and energy become infectious. I will go as long each day as you can tolerate and probably longer…I will help you on the composition side, and the technical side and I love to see work and critique it with this kind of workshop. Expect no sugar coating and straightforward criticism aimed to enhance your vision. I am of course dying to shoot here as well:)
WHAT I EXPECT FROM YOU….
This is workshop to push your limits. I want you to explore you photography and push it to new limits. Each of you are at different levels but each of you should try new things and take your photography to a new level. I expect a sense of curiosity, open-mindedness, and a thirst for knowledge. I expect my students to become skilled observers, and to openly share their new knowledge with others. One of the beauties of photography is its ability to translate across many disciplines and across many areas of life. Although my passion is for photography, one of the greatest goals I have and expect for you is to become motivated, insightful, and enthusiastic creators. I believe you will walk away seeing more of the world around you, as well as knowing what it takes to translate your vision into an image and I expect that you will be thoroughly invigorated, thoroughly excited, inspired, and thoroughly exhausted.
Links
Search
Recent
Archive
Categories
Subscribe
Get the RSS Feed