August 7, 2014 | Comments Off on Free eBook – Antarctica / Two Visions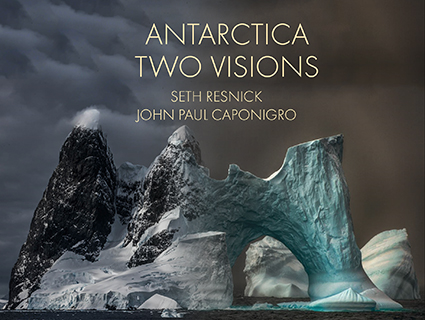 Enchanting Antarctica is explored in this beautiful ebook.
Individual portfolios are followed by a selection of images shot at the same locations at the same times by both artists.
Essays include personal responses to place and insights into the many influences that arise by working side-by-side.
It's inspiring!
46 images
60 pages
$19.99
It's free for a limited time only!
By supplying your contact information you authorize DPD to contact you with more content.
February 25, 2014 | Comments Off on Contact Sheet – Antarctica 2014
It took me some time to get a clearer sense for the images I made during my sixth voyage to Antarctica with Seth Resnick during our Digital Photo Destinations workshop. Lacking the big moments that immediately stood out on previous voyages (Curiously only a few of these selects were taken during our most dramatic moment when we spent four continuous hours in Pleneau Bay or The Iceberg Graveyard, where we found not one but three ice arches.), this voyage was a quiet sustained build of repeatedly chasing several ideas (minimal spaces, sheltering skies, glacial abstractions, ice details). The quieter more sensitive nature of this work became clearer as I reflected upon the way the files were processed, with a softer touch. Even as I left Antarctica, I wasn't sure of exactly what I had, but the more time I spend with the work the more I begin to understand it. Antarctica's many moods and its elusive mysteries are what keep me longing to return.
Find out about our next Antarctica adventure. Email seth@digitalphotodestinations.
See Seth's Contact Sheet from Antarctica
Links
Search
Recent
Archive
Categories
Subscribe
Get the RSS Feed