January 8, 2014 | Comments Off on Contact Sheet – Atacama Desert, Argentina 2013
Notes From JP
I recently returned from my second exploration of the Atacama Desert in Argentina. In a contact sheet of new images, rather than seeing locations (Pumice Stone Fields, Dead Man's Salt Flat, Red Labyrinth, Tolar Grande, Salinas Grandes), I see ideas I'm developing and patterns of thought. My first impression is that I probably won't release most of these images, and perhaps only one or two as is, but the bottom row clearly indicates where I want to go with this material. Theses images are all fine images, but have I truly made them my own? Not yet. How would I do this? First, create a context (series or body of work) for them. Second, enhance them further, in some cases using special effects and compositing.
Find out about our next Atacama adventure.
Email seth@digitalphotodestinations.
Find out about new DPD adventures.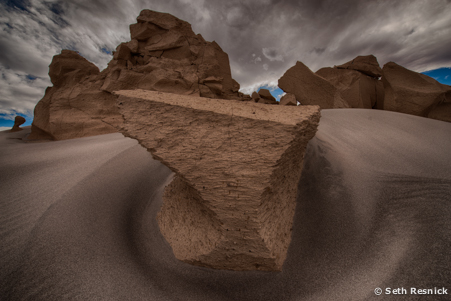 See Seth's contact sheet from the Atacama here.
Notes From Seth

The sky explodes with gold and fiery crimson, casting a glow on a landscape that no one would believe is natural. Only Photoshop could produce color like this and yet I see it with my own eyes. There is ethereal gold, bleeding out to pink, purple, blue, rose and peach. No one will believe that this is real, yet it is repeated over and over again. We are in the Atacama Desert in Argentina and it is more spectacular than I ever imagined.

Most of you have probably not heard of the Atacama Desert. It is one of my favorite places in the world to photograph. The Atacama Desert covers 600 miles from Peru's southern border into Northern Chile. The Atacama is the driest place on Earth with stretches that have never received rain. The Puna in Argentina has an average elevation of just under 15,000 feet and has sprawling areas of salt flats and some of the most amazing landscape any place on this planet.
 
The Atacama is filled with strangely seductive and shocking scenery. I have only felt this electric about landscape in two other places, Antarctica and Namibia. Here in the Atacama, I am in love with the unbelievable colors. One of my most mind blowing, favorite spots to shoot is Salinas Grandes. It is a magnificent expanse of salt deposits,  stunning pristine whiteness, filled with cobalt blue symmetrical patterns, against a dramatic sky and  beyond a photographers wildest expectations. It's all truly incredible and awesome to shoot.
 
One of my goals in the Atacama was the excitement of revisiting the Pumice Stone Fields. On my first adventure I found that it was very difficult to portray the vastness of this astounding location. On my return I realized I was making similar pictures that I made the year before and I was getting frustrated so I took a lesson from JP. I stopped shooting and I went back to the vehicle and played a video game while I regrouped. In 15 minutes I realized how silly it was to be sitting in a car at sunset in the Atacama but I had a clear mind and went back out and got my best images and bought back a new vision of the Stone Pumice Fields.
Links
Search
Recent
Archive
Categories
Subscribe
Get the RSS Feed