Guest Instructors
Julianne Kost
Julianne Kost is thePrincipal Digital Imaging Evangelist for Lightroom and Photoshop, the publisher of the Daily Photoshop and Lightroom Tip, the host of The Complete Picture (a bimonthly instructional training program featuring Lightroom and Photoshop on AdobeTV), the creator of the Photoshop CC and Photoshop CS6 Essential Training course with Lynda.com, and the author of Window Seat — The Art of Digital Photography and Creative Thinking. In addition, she is a frequent contributor to several publications, a speaker at numerous conferences and industry events, and a guest lecturer at distinguished photography workshops and fine art schools around the world.
By combining her passion for photography, a mastery of digital imaging techniques and a degree in psychology, Julieanne's photographic and fine art work creates a world similar enough to appear familiar, yet uniquely interprets reality. She has had several exhibits of her work as well as published numerous articles on Photoshop and Lightroom in books, magazines and online. She holds and AA in Fine Art Photography and a BS in Psychology.
Find out more about Julianne Kost here.
Read a conversation between John Paul Caponigro and Julianne Kost here.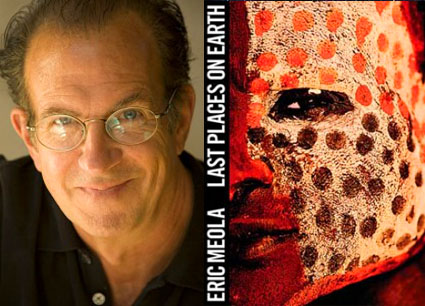 Eric Meola
Eric Meola's graphic use of color has informed his photographs and his distinguished career for more than four decades. His prints are in several private collections and museums, including the A.S.M.P. archive, the National Portrait Gallery in Washington, D.C., the International Center of Photography in New York, and the Museum of Modern Art in Munich.  He has won numerous awards including the "Advertising Photographer of the Year" award from the American Society of Media Photographers.
In 1972 he photographed Haiti for Time magazine, resulting in one of his most famous images, "Coca Kid," which was included in Life magazine's special 1997 issue "100 Magnificent Images."  In 1980 he had his first major exhibit in New York at the "Space" gallery in Carnegie Hall and his signature red, white and blue image "Promised Land," was chosen for inclusion in the permanent collection of the George Eastman House.  In 1989 he was the only photographer named to Adweek magazine's national "Creative All-Star Team"; and that same year he received a "Clio" for a series of images he made in Scotland for a breakthrough campaign featuring the outerwear clothing of the  Timberland company.  "Fire Eater," his iconic image of the spotlit lips of a woman submerged in a tank of water, and commissioned by Almay cosmetics, was included in Robert Sobieszek's  1993 book on advertising The Art of Persuasion.
As an undergraduate at Syracuse University, he studied color printing and color theory at the Newhouse School of Journalism before graduating in 1968 with a B.A. in English Literature and then moving to NYC in 1969 to work with Pete Turner as his studio manager.   A Canon Explorer of Light, he has lectured extensively, including at Syracuse University, Rochester Institute of Technology, Brooks (Santa Barbara), the Art Center at Pasadena, Parsons, the Academy of Art College (San Francisco), the George Eastman House, and venues including PPA., WPPI, and A.S.M.P.  He is also a member of the prestigious X-rite Colorati program.
In 2004, GRAPHIS published his first book The Last Places on Earth, a look at disappearing tribes and cultures throughout the world.  An exhibition in England of his photographs of Bruce Springsteen, which coincided with the publication of his second book Born to Run: The Unseen Photos (Insight Editions, 2006), was followed in 2008 by INDIA: In Word & Image (Welcome Books, NY), and an exhibit of his India photographs in 2009 at the Art Directors Club of New York.
Constantly looking for unusual uses of color, Eric's most recent work is from a trip he made in early 2011 to India to photograph Holi, the "festival of colors."  Showcasing a portfolio of his color images in its October 2008 issue, Rangefinder magazine referred to Eric as one of a "handful of color photographers who are true innovators."
Find out more about Eric Meola here.
Read a conversation between John Paul Caponigro and Eric Meola here.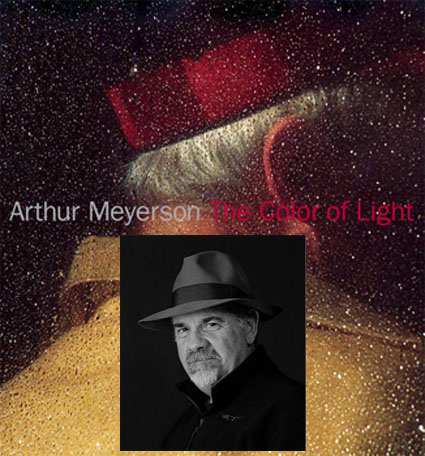 Arthur Meyerson
Arthur Meyerson is recognized as one of America's finest photographers. Arthur travels throughout the world photographing for advertising, corporate, and editorial clients. He is a three-time winner of Adweek's "Southwest Photographer of the Year" award, is on Communication World's list of the world's top 10 corporate photographers and was named one of the 30 best advertising photographers by American Photo. In 1999, Arthur became a member of Nikon's exclusive "Legends Behind the Lens".
His awards are numerous including gold medals from the New York Art Directors Club, the Art Directors Club of Houston, the Dallas Society of Visual Communications and the prestigious Stephen Kelly Award for his work on the Nike advertising campaign. He was honored by the Houston Advertising Federation as the inaugural recipient of the Only In Houston award for individuals "whose creativity and passion for his art have brought recognition to the city of Houston". In 2008, the Houston Design Center named him as the first recipient of photography in their annual Stars Of Design celebration.
Besides his commercial work, Arthur's fascination with light, color and the moment continues and has culminated into an impressive body of personal work as well. His photographs are in the public collections of several major institutions and have been exhibited internationally. He and his work have been profiled in many publications including Communication Arts, Rangefinder, Camera Arts, Graphis, Digital Photo Pro, Zoom (France), Portfolio, Idea (Japan), Novum (Germany), Photo World (China), and Fotodigital (Portugal).
A highly sought after workshop instructor and mentor, Arthur teaches photography workshops, does individual mentoring and participates in speaking engagements throughout the U.S. and abroad. He is on the Board of Advisors for the Santa Fe Photographic Workshops and is a former member of the Advisory Council for the Santa Fe Center for Photography and the Houston Center for Photography.
Learn more about Arthur Meyerson here.
Read a conversation between Arthur Meyerson and John Paul Caponigro.
View a video interview of Arthur Meyerson here.

Ragnar Th Sigurdsson
Ragnar Th Sigurdsson a native of Iceland began his professional career as a news photographer in 1975, educated in Sweden and Iceland. He established Arctic-Images, his own studio and graphic-work firm in 1985 pioneering the use of computers and digital equipment in Iceland. Ragnar built his internationally acclaimed reputation mastering a wide variety of assignments.
He has a broad range of work including studio, advertising, aerial, portraits, travel, and corporate, editorial and stock photography. Along with his own marketing efforts, Getty and Corbis represent his images.
Some local clients include; The Export Council, The Scientific Council, The President of Iceland and the Tourist Board. Ragnar has international clients ranging from banks, corporations and travel operators.  His images are widely used in advertising campaigns, billboards, brochures calendars, magazines, newspapers and a variety of books. Some credits include, New York Times, Time, Newsweek, National Geographic, Toyota, Icelandair, Digital Photographer, Geographical, Arctic Books, Discover the World, and New Scientist.
Ragnar is one of Iceland's leading photographers and an Arctic Traveler, specializing in nature and Arctic photography for 30 years. He reached the North Pole in 1995. He has traveled around such diverse locations as Iceland (naturally!), Greenland, the North Pole, Lapland, Siberia, the Northwest Territories. Ragnar's passion is understandably for the Arctic. In additional to commercial work Ragnar has produced over 25 books. He continues to work with Ari Trausti Gudmundsson, a TV-producer and geophysicist. Together they accept assignments involving, geothermal activity, geological or glaciological phenomena, plus wilderness travel in the Arctic.
Ragnar is member of The Polar Circle and The Explorers Club, which promotes exploration and field sciences. He has participated in various single and group photographic exhibitions. In  2010 Ragnar had an exhibit of 20 images on the shores of the Jökulsarlon Glacial Lagoon, a truly remarkable feat, first of its kind. The exhibit entitled the "Vatnajökull Region" consisted of 20 images approximately 25 square feet each, displayed on concrete pillars, making the total weight of the exhibition 50 tons.  It was surreal to experience this work of art in the elements with icebergs surrounding and the unpredictable climate changes.
The National Television Station in Iceland has also produced documentary programs on his work. He has received many awards in his homeland as well as three CLIO awards.  Images of the Eyjafjallajökull eruption appeared in the New York Times including the cover. Time magazine published his images of the Eyjafjallajökull Volcano Eruption, which later was included in the 2010 pictures of year.
Links
Search
Recent
Archive
Categories
Subscribe
Get the RSS Feed