.
There are photo tours and there are photography workshops.
Find out why we're the Harvard of photography workshops here.
.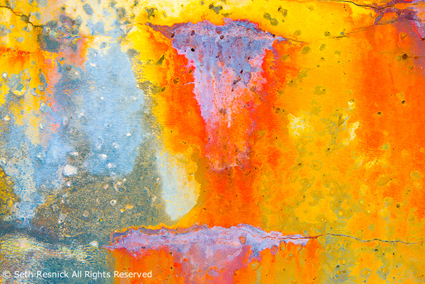 There's limited space in our upcoming workshops.
Reserve Your Space Today!
The Art of Creativity  1/16-19/2018    SOLD OUT / Register Now
The Art of Processing  1/21-24/2018  SOLD OUT / Register Now
Antarctica   2/18-27 2018  SOLD OUT Wait List
Personal Project / Arches, UT  4/30-5/5 2018  SOLD OUT Wait List
Sail Greenland / Ice & Auroras  9/26-10/2018  SOLD OUT  Wait List
Antarctica   2/18-27 2019     SOLD OUT  Wait List
Sail Greenland / Ice & Auroras  9/14-25/2019  Register Now
If the adventure you want is SOLD OUT …
Email seth@digitalphotodestinations.com for our WAIT LIST.
Spaces may open up.
Be the first to hear about new adventures.
Sign up for our EARLY ALERT LIST here.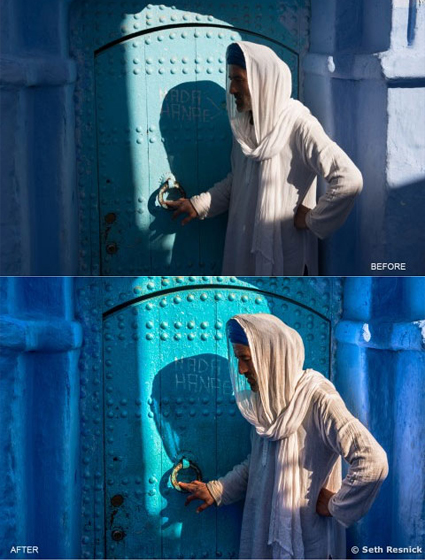 Seth Resnick
When I'm on location, I shoot lots of material. I cull my work constantly, and feel relieved every time I delete another hundred or so images. Some people are amazed that I delete anything, and almost everyone is amazed at just how much I delete.
In the field, I make very basic adjustments. I take the three-star and four-star images and put them in a collection. They are a collection of the best of what I shot, but not necessarily portfolio images. From these sketches I eventually select a few of the best and, after some additional work, those become portfolio images for galleries and prints. The sketches from each of these trips are posted at http://www.sethresnick.com/recent/
These sketches are a critical step in my creative process. I need to live with the body of work for a while before I can even get to point of really selecting the finals for galleries and exhibitions. I also find that I need to get over the initial "wow" factor of being on location. It's funny how some images that totally sizzle in your mind when you click the shutter begin to fizzle out when you look at them a week or so later.
Eventually I can pick images from my sketches to include in my portfoliohttp://www.sethresnick.com/portfolio/, but it is much easier for me to get to this point when I have an intermediary step like my sketches.
Read more about my Contact Sheets on B&H.
Read about John Paul Caponigro's Contact Sheets on B&H.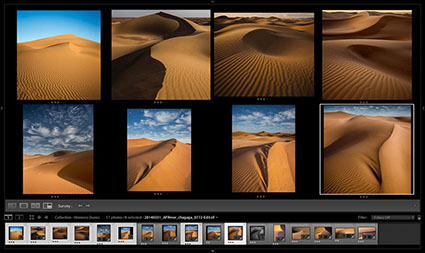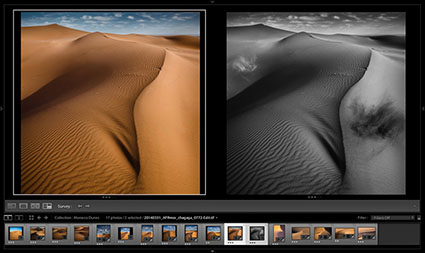 John Paul Caponigro
Using Smart Collections in Lightroom speeds up the process of gathering and revisiting these images. I use Smart Collections―1 Star, 2 Stars, 3 Stars, 4 Stars, 5 Stars, and 3+ Stars. These Smart Collections are critical for focusing and accelerating my visual thought process, helping me to make the most of a location in a short amount of time. I can see what's working and what's not, correct mistakes, figure out what it's going to take to up my game, identify missing shots, and seek out the ones that will bring a set of images together. Smart Collections serve as a chronology of all the ranked images I've made. They create a unique kind of journal. Most importantly, they start the process of assembling bodies of work.
I use Collections for assembling like images to develop projects, typically grouping selected images by location or theme. Unlike Smart Collections, I find Collections' support for a manual sort order essential. Manual sort orders enable me to create image pairs and sequences, continuities that bind groups of images together into bodies of work. (For more on Continuity, Bodies of Work, and Developing Personal Projects, download my free PDFs at Creativity / Storytelling resources here.
Unlike Smart Collections, I find Collections' support for a manual sort order essential. Manual sort orders enable me to create image pairs and sequences, continuities that bind groups of images together into bodies of work. (For more on Continuity, Bodies of Work, and Developing Personal Projects, download my free PDFs at Creativity / Storytelling resources here. Unlike when I used film, where I had to make physical contact sheets to select images, I rarely print my virtual contact sheets. It's curious to call them by the traditional name "contact sheets," because they're not made by contacting film to paper. But, they're no less essential to my creative process; if anything, they're more important. Virtual Contact Sheets allow me to edit images at higher levels of thinking. I even use them to select and sequence images for slideshows, exhibits, and books.
I save virtual contact sheets, and sometimes I even save different states of a single contact sheet. I take screenshots of Lightroom's display of my curated Collections. So many people requested to see them that I started sharing them on my blog. Having to make remarks about my virtual contact sheets helped me obtain an even better understanding of my creative process and my results.
Read more about my Contact Sheets on B&H.
Read about Seth Resnick's Contact Sheets on B&H.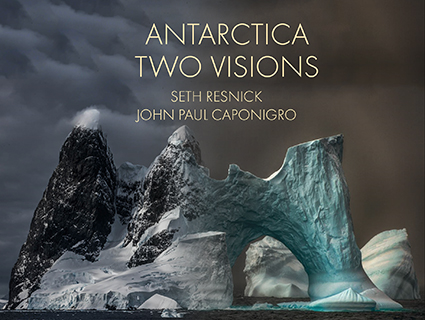 Enchanting Antarctica is explored in this beautiful ebook.
Individual portfolios are followed by a selection of images shot at the same locations at the same times by both artists.
Essays include personal responses to place and insights into the many influences that arise by working side-by-side.
It's inspiring!
46 images
60 pages
$19.99
It's free for a limited time only!
By supplying your contact information you authorize DPD to contact you with more content.
 Get this ebook free.
When Seth Resnick and I started Digital Photo Destinations workshops we picked locations from our bucket lists – and we still do. We go to the places we feel our lives would be incomplete if we didn't visit them.
What's on our bucket list? Climb glaciers and into ice caves above Iceland's Jokulsarlon; fly helicopters over 1000 foot high coral dunes in Namibia's Sossusvlei, ride camels in Morocco's Erg Chagaga; sail through the world's largest ice fiord in Greenland's Illulisat; glide in zodiacs through Antarctica's "Iceberg Graveyard"; drink tea along China's Li River surrounded by its misty mountains; walk through Shinto garden shrines in Japan's Kyoto (both in spring bloom and fall color). These are just a few of the things on our bucket list.
What's on your bucket list? If you don't have a bucket list use ours to start one; you'll do more of the things you want to do. If you do have a bucket list, you may decide to add an item or two you see on our bucket list. And, if you find a destination that's already on your bucket list here, we hope you'll join us.
Find out about our next Digital Photo Destinations adventures here.
See more in our contact sheets from previous adventures here.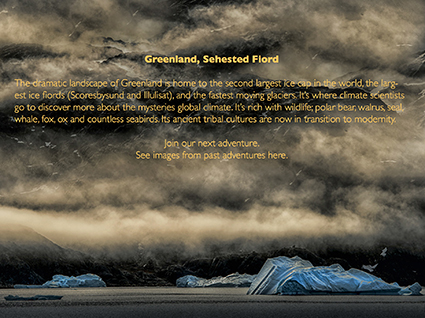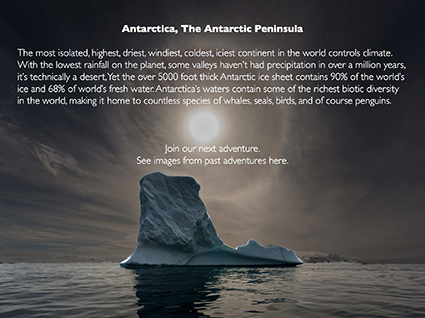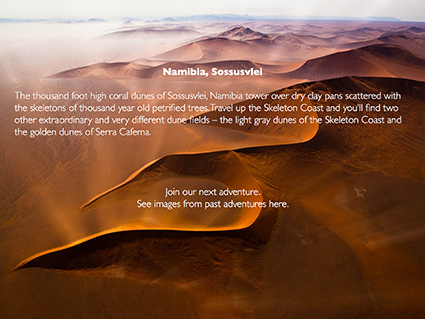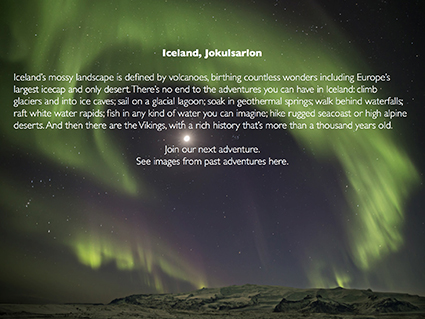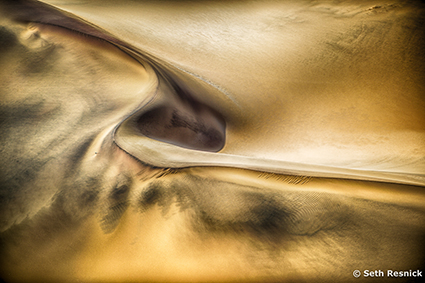 My images are a journey into the personal space of my subject literally traversing and surveying into that space.
I like graphic boundaries to place a limit on the space and through the use of layers and both straight and curved lines travel through that space deeply exploring the energy I feel from within that space.
I want my viewers to see my photographs as an opportunity to consider the larger, unseen realities that contribute to the energy and uniqueness of my subjects.
Ideally photographing isn't just a record of a physical presence but a documentation of the encounter that exists between the energy I experience in my subject.  
In formal terms, my work is an exploration of a packed frame typically filled with layers in the form of light, texture and color.  I am interested in both the tension and solitude that exists within the frame.
I am attracted to primary colors and most importantly formal boundaries are very important in my images. When I am shooting I feel I am exploring fantasy of nature. The images that work the best for me explore feelings of sensuality and create illusions but at the same time emphasize our fragile environment and instill a sense of responsibility to preserve it from further destruction.
View more of Seth Resnick's photographs here.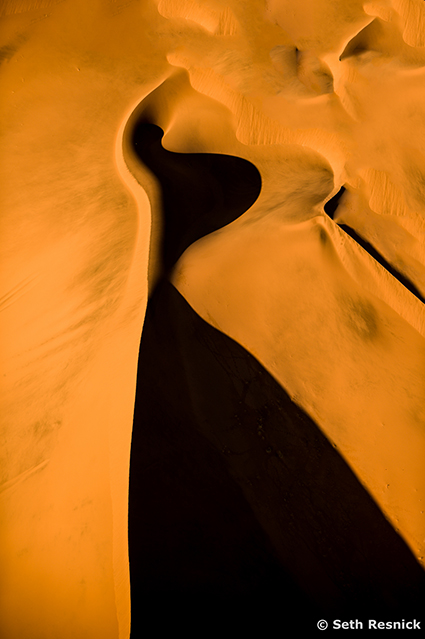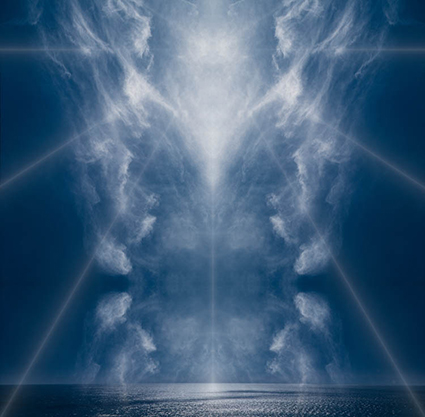 Forms of environmental art rendered in virtual space, my work brings images conceived in the mind's eye and held deep within the heart into clear focus.
These poetic journeys portray landscapes as sacred spaces, embedded within the larger web of life, sustaining and capable of generating more life, each with a unique character, spirit, and perhaps even different kinds of consciousness.
Exploring ways of walking through a beautiful world in a beautiful way, I invite others to celebrate with me the miracle that we are not apart from nature but a part of Nature.
These meditations in nature, illuminating the nature of perception and our perceptions of nature, offer inspiration for people to more fully experience and more creatively interact with our natural world.
When we speak of nature, if we replace "it" with "we", a personal transformation occurs. Revitalize our relationships with nature and we revitalize ourselves.
View more of John Paul Caponigro's images here.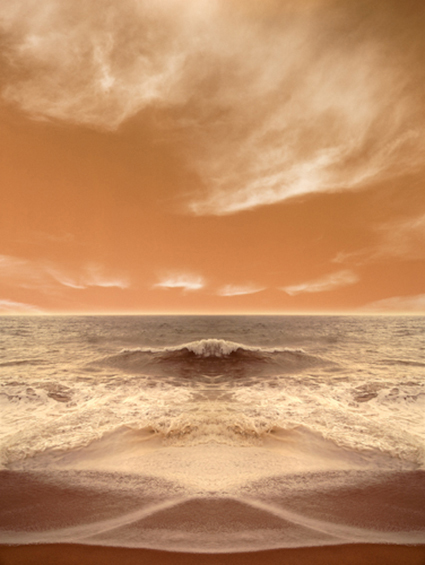 Notes From JP
There were many surprises on our recent DPD workshop in Iceland. Anticipating auroras we encountered heavy weather, which we expertly dodged with resourcefulness of our hosts at Focus On Nature.
In the images I made during this week I found something old and something new. I revisited a few old themes – reflections and ripples. I connected new themes – contrails and tire tracks. But the bird's eye views we saw during one hour of aerials both over frozen highlands and along flowing rivers were the most captivating. Related to aerial images I've produced in Namibia, I'm sure now that this kind of photography is something I'll do much more of in the future.
That said, it's really the relationship between a new image of a wave and an earlier one of a waterfall that excites me most. I thought that I hadn't found what I was looking for, great images of auroras. But when I saw this wave repeatedly crashing into the air, I realized I actually found what I'd been looking for for quite some time. Expect the unexpected?
Find out about our next Iceland adventure. Email seth@digitalphotodestinations.
Find out about new DPD adventures.
Notes from Seth
One of my goals for our DPD Iceland workshop was to add to a project on sensuality in nature and I was rewarded with several images. Although not yet what I would consider a body of work, I am well on my way.
I always have multiple projects at one time and was able to continue with themes about layers and compacted spaces, reflections, textures and wonderful earth patterns from a helicopter.
I also experienced first hand the largest wave I have ever scene. A slight miscalculation in distance and I was soaked to the bone….
see the rest of Seth's contact sheet from Iceland
Notes from JP
I anticipated being out of my comfort zone for the majority of my recent DPD adventure to Morocco. As a surreal landscape photographer I've had very little experience with street photography and portraiture. It was great practice. I did better than I expected. Practice makes better. While I don't plan to release any of these images, my vision and skills are stronger for having made them. The questions that were asked and clarified were the most important. "What kind of chemistry is necessary for an authentic event to happen?" "How many ways can you start chemical reactions?" "How long does it take?" "In which peak moment is this most intensely felt?" "How do the images you make reflect your personal relationship to the subject?" Ironically, it might be easier to answer these questions when photographing people than landscapes, but they're equally valid for both.
I anticipated the days in the deep deserts to be the most personally productive – and I've got some good raw material to work with. It's unfinished. This raises, another good question. "When is work complete enough?" But I made one rough composite, which gave me proof of concept. Though I'm sure there will be surprises along the way, I know where the work is going and what it will take to complete it.
Find out about our next Morocco adventure. Email seth@digitalphotodestinations.
Find out about new DPD adventures.
Notes from Seth

Morocco was visually incredibly exciting. The Sahara bought us breathtaking dunes and even a full on sandstorm with a tornado. One of my goals was to photograph the people of Morocco in addition to the colors of Morocco. The best and worst part of the trip was photographing people. I have always had a comfort zone photographing people every  since my journalism days but this was different. It was much more challenging and much more rewarding.
 
The Quran, the Islamic holy book, does not explicitly prohibit the depiction of human figures but in a Muslim country it is generally frowned upon to depict the human figure. Like many photographers I encountered many difficulties shooting portraits in a land where people have superstitious apprehensions towards the camera, and ofter see photography as a tool that steals the soul of the people. That said I also found that it wasn't purely religious. Morocco has become a vibrant and very busy tourist destination and many of the locals may be feeling increasingly like they are being placed on display or under a microscope- and highly likely multiple times in any one given day!
An interesting and efficient by-product of this is that there has sprung up an unofficial "trade" of sorts whereby it has become the accepted practice for tourists to pay for photo opportunities. As a journalist I hate to ask permission to take a picture because you lose the moment. I did pay the snake charmers and others and I did sneak some frames of folks but I really didn't feel right.
 
During our workshop we had one of our participants stand near a wall and then had all of our participants photograph so it became evident what it must be like to be on the other side of the camera. In fact the next time you race up to a subject and start shooting, consider how you may feel if you are busily trying to complete your work or tasks and groups of people kept on shooting frame after frame. To say the least it would be intimidating.
 
After being very frustrated I decided that there had to be a better way. It took time but patience in portraiture will be rewarded. Clearly if I was able to build a rapport with someone before attempting to photograph them the end result was positive. I found that if I approached someone and simply made chit chat and inquired about their wares or their lives that they were much more inclined to allow me to  photograph them.
 
I wanted to not simply be an observer with my camera but rather to enter someones personal space, and this took time, but in the end it worked.
Links
Search
Recent
Archive
Categories
Subscribe
Get the RSS Feed